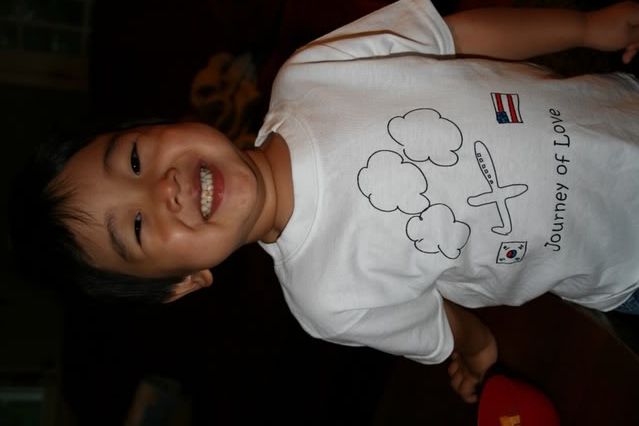 I just tucked Sam in for the night, and had the sweetest chat about how lucky we are to be a family.
It was almost to the minute two years ago tonight that we waited anxiously in Terminal D of the bustling Philadelphia airport for Sam to arrive from Seoul. The journey from his loving foster mother's home to ours in New Jersey was over 24 hours, and according to his escort, he hadn't slept AT ALL while flying. That fact alone made him none too happy when he was handed over to us. Luckily, with a little bit of sleep under his belt, he turned into a giggly, happy baby who quickly learned how to keep his parents in stitches.
As happy a day as this is for us, there's a bittersweet element, too. I can't help but think that his birth family has no idea that today is significant to a little boy they loved so much that they had to make the heart wrenching decision to place for adoption just so he'd have a chance at a life they couldn't give him. I can't help but think how his foster family, after caring for him for 11 of the first 13 months of his life, must have been so sad to hand him to an escort at Holt, knowing they may never see him again.
I know that we have become the family we were meant to be. As painful as some of the parts of Sam's earliest days are, he is forever a part of a family that loves him more than anything on Earth.
Last year, Sam was too young to understand why we were so excited about this day. It's different this year. He is still too young to understand much of what we talk about, but he did repeat several times that today is "Gotcha Day."
He gets the important parts: there's an airplane involved, the word Korea is somehow associated, lots of people waited for him to arrive and they waved flags while they waited, and we now we celebrate how blessed we are to have each other.
We started the day by watching the video from the night he arrived since Rob has to be at his school's graduation tonight. Sam's seen the video many times before and calls it "my movie." He watched intently this morning, identified everyone who was there, and waited with bated breath to see his own arrival.
He was very cute... When he finally saw a glimpse of a tiny version of himself, carried in a podaegi on his escort's back, he ran to the TV and pointed, shouting, "There I am! That's me. I'm HERE!"
He watched his reaction on the screen go from smiley, to hysterical, to calm again. He turned to us and said," Mommy, Daddy, look. I was crying, and you made me feel all better. I'm not sad anymore!"
It's so ironic to hear him say that, since his mommy cried happy tears several times today. I just keep thinking of our special night two years ago and seeing what an amazing little person he's turned out to be.