Being the wife of a teacher means that Labor Day weekend is always bittersweet. Sweet to spend a few relaxing days enjoying what's left of summer; bitter to know that the craziness of the school schedule is starting again. I still have to pinch myself sometimes, though, to think that I have a child of my own also tied to the big Back to School schedule.
Sam heads back to the daily grind of the Laurel Tree Academy tomorrow. It's cool when you're three to just see it as finally getting back to see your little friends and the routine of circle time, playground antics and group naps. I actually think he's ready. Mommy and Daddy are only so entertaining for so long when you're as social as our dear child is.
We were reminded just how social and in need of constant pre-schooler contact Sam is this past weekend when we hit Jellybean Jungle for Sam's friend Adam's birthday party. A few kids from his room at daycare were there, and their eyes all just lit up upon seeing one another. That little taste of the first day should make life easier tomorrow.
Tomorrow night may be another story. We've gradually been sleeping until about 7:30 each morning, and Sam's bedtime has slipped into the 9:30 - 10 p.m. range. With school comes Daddy up at 5:30, Sam up by 6:30 and back to bed by 8ish. That bedtime has always worked for me, personallly, so I selfishly don't mind. I tuck Sam in, then read for a while before enjoying my own kiddie bedtime!
In other scrap news, for anyone who cares, I committed to "Stand Up and Scrap" this weekend.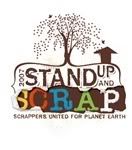 Basically, Stand Up and Scrap means I bought a kit I would have purchased anyway for a nice donation to the "green" cause and will try to hold my own over six weeks of scrap challenges. I'm intrigued by the fact that the contest is, in theory, totally anonymous. There is definitely a group of "famous" scrappers out there, and a few seem to dominate most of the buzz that's out there. I have no delusions that I'll get far, but the thought of a year's worth of products from my favorite shop makes it just silly not to play along.
Finally, for anyone who's read this far... the REAL news is that we're back "in process." We, ironically, spent Labor Day filling out the paperwork for our next baby! We completed all of the necessary forms and printed the pictures that have to go along with it. We go to the notary early this week, write the checks, and we're off!
We did the math tonight, and it's actually possible that we'll have a new baby nestled in our house by Christmas of next year! My mom is definitely thinking pink, but while we are not indicating a gender preference, we both seem to have an inkling that #2 will also be of the male persuasion. Maybe that's just because we have a name for that one!
My friend Ted is apparently tickled when his name is in my blog, so I'll close by publicly putting a teensy bit of pressure on him and Kim to consider applying, too, so we can enjoy the torture of the wait together. I figure we'll be sharing every gory detail anyway, so we might as well do it simultaneously. Easy for me to say! So... no pressure Ted. Kim and I can just pass the time before you apply by going digiscrap shopping. ;-)