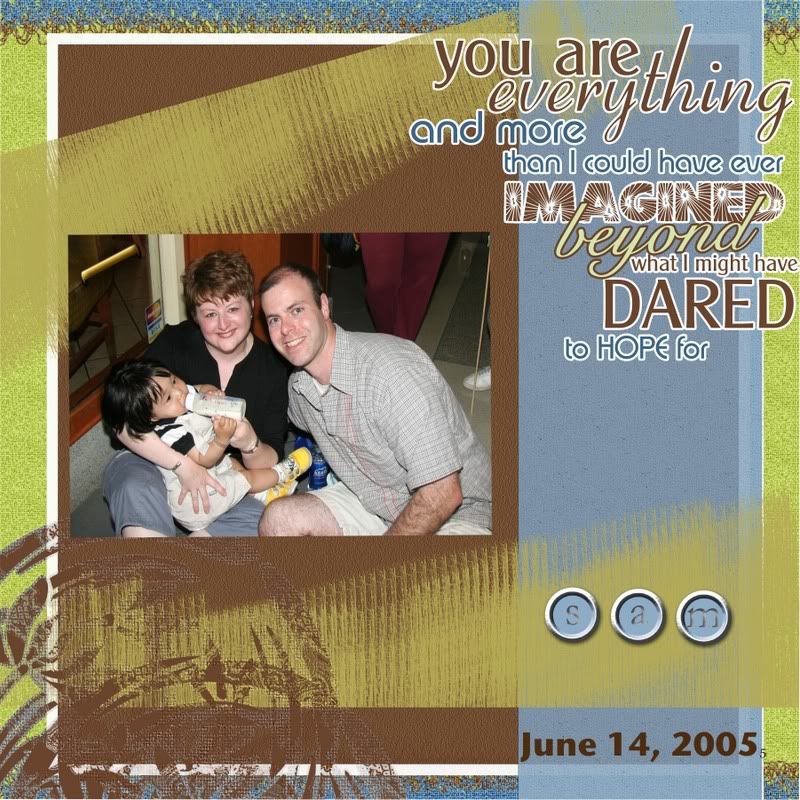 With Photoshop.
I started this blog saying that I needed to somehow do something to keep up with memory keeping for Sam. I specifically noted that I was incapable of the crafty things that better moms than I do in order to catalog the lives of their children.
Well, it's a whole new day. For the sake of my family, I'm not sure it's a good thing, but I have conquered Photoshop Elements.
Maybe conquer is too strong a word. We've become acquainted. And I have spent any free moment I have since this weekend playing around with various layouts. (Look at me throwing lingo around already.)
I'm having such a good time doing it, but I should really try to keep up the blogging thing, too. This is actually faster and not nearly as costly. Maybe I'll finally be able to do away with the blogger template and make a pretty blog of my very own!
I have some catching up to do...
First, Halloween was last week. Sam HATED the thought of being a monkey, but literally followed the rule of monkey-see-monkey-do at daycare. Once everyone else was in their holiday get-ups, he followed suit and went out for the parade.
He didn't like it: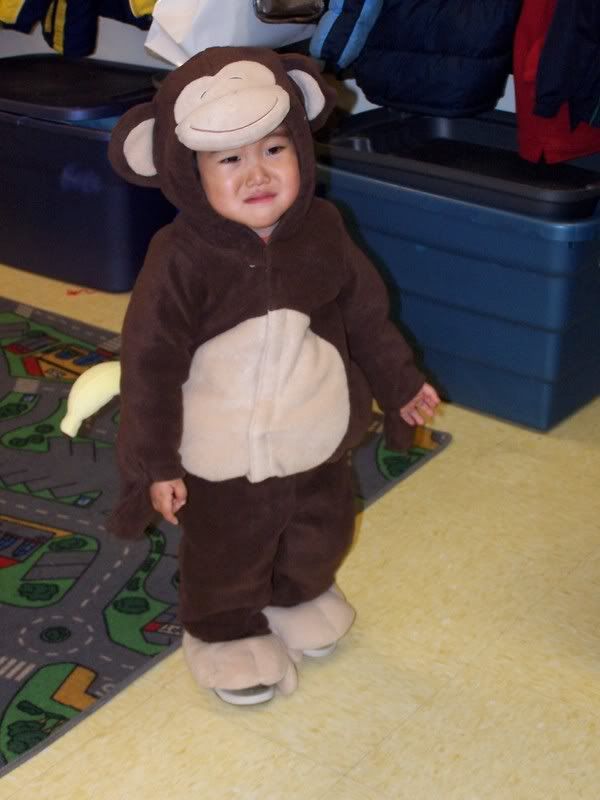 All was well when he got to go trick-or-treating and realized that we were serious when we told him people give you candy if you dress like a monkey. We were waiting for him to realize that you get candy no matter what costume you wear, but that never happened. Thank goodness, because he kept telling anyone who would listen that he was going to be Woody. He'd follow it up with "Reach for the sky!'
In other news, I'm a deficient blogger because I've been neck-deep in getting the word out that my adventures in Santa Claus, otherwise known as the taping of Extreme Makeover: Home Edition, are about to hit the airwaves. We shall see if I became an offical WNA (will not air, in hip TV lingo, as I learned.)
It seems cool that this is airing the same week that my dear husband hits the fabulous, wonderful, marvelous 10-years-cancer-free milestone. He turns a year older this week, too, but in this case, that is a very good thing.